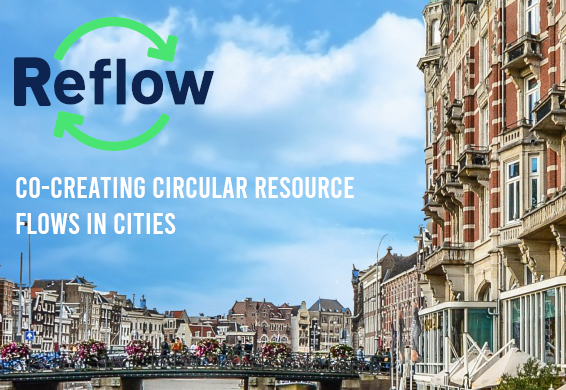 12 Sep

REFLOW: Co-creating Circular Resource Flows in Cities

Many of our modern challenges come to surface in cities and urban areas. Think of climate change, energy transition, circularity of materials and social cohesion. Cities on the other hand offer a great scale, resilience and energy to find solutions for many of these challenges.

REFLOW is a three year research project funded by the European Commission with focus on development of constructive metabolic processes for material flows. This research will happen through different pilot cities in urban and peri-urban environments across Europe.

In the project, the philosophy and approach of the maker movement are applied to the transition of cities towards circular and regenerative economy.

Pilots in six European cities

In six cities across Europe; Amsterdam, Paris, Berlin, Milan, Vejle en Cluj-Napoca the project zooms in on a specific resource stream: textiles, wood and packaging, housing, food, plastics and electricity. Through city pilots, data on resource streams are mapped and visualized, governance models and processes are developed, technology that supports sustainable and scalable implementation of such processes is developed. Across the majority of these tasks, citizen engagement is part of the research approach.

The role of Ecovala in this project

Ecovala is coordinating the capacity building actions of the project and will support the development of the knowledge Hub (best practices, online courses, toolkits and guidance).

The project is lead by Copenhagen Business School, alongside partners the Danish Design Centre, IAAC (Spain), Fraunhofer (Germany), Politecnico de Milano (Italy), Metabolic (Netherlands), WAAG Society (Netherlands), Fab City Grand Paris (France), Dyne.org(Netherlands) and several others.

This project has received funding from the European Union's Horizon 2020 research and innovation programme under grant agreement No. 820937.